Are you tired of crash diets that don't work?
Or maybe they worked for a little while but then you gained it all back?
Are you exhausted from all of the calorie counting, macro counting and logging of your food?
Are you frustrated with being so miserable in your skin that you won't even wear shorts in the dead of summer?
Do you feel hopeless that nothing you do is going to get the weight off?
I get it mamma - I have been there. I spent the majority of my life bouncing from one restrictive diet to the next and hating what I saw in the mirror.  I walked around with so much anxiety around food that I dreaded going out to dinner with friends.  I lived in constant guilt and shame for not being able to stick to the "plan" and consistently found myself in a restriction-binge cycle that made me miserable.
And then one day all that changed for me...I decided to ditch the dieting and hours in the gym.  I committed myself to learning a better way - a sustainable way to live - where I shed the weight for good and started living my life.  No more calorie counting.  No more macro counting.  NO MORE DIETING.
Now I want to give you the exact blueprint that changed my life.  I want to to personally coach you on how to build sustainable lifestyle of nutritious eating and effective workouts where you can achieve actual results that last.
Are you ready?
ENROLLMENT FOR THIS PROGRAM HAS ENDED.  JOIN THE FACEBOOK GROUP TO BE THE FIRST TO HEAR OF UPCOMING PROGRAMS!
The Kinds of Results You Can Expect in the 30 Day Fat Loss Jumpstart: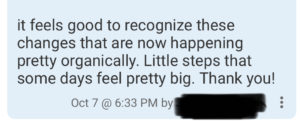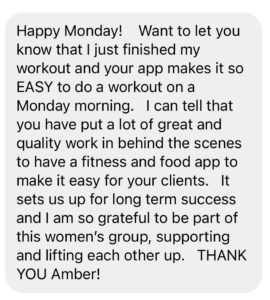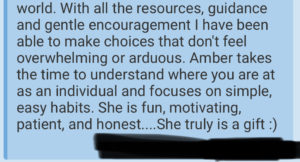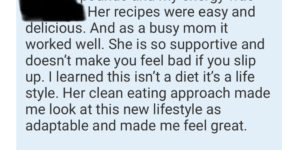 Hiya Gorgeous!  I'm your coach, Amber!
I know what it's like to never be satisfied in your body.  I know what it's like to feel overwhelmed, confused and frustrated when it comes to losing weight.  I also know what its like to be over 40 and suddenly your body doesn't feel the same as it did when you were in your 20's or 30's.
Health and fitness has always been a part of my life - but after I became a mom, things changed.  I gained around 65lbs with BOTH kids and found it really difficult to shed the weight.  I found I had less time for myself and and it seemed impossible to make myself a priority again.  And on top of that, weight loss strategies that worked in the past, just didn't seem to work anymore.
I tried every diet on the planet.  I would have success and then as soon as I went back to "normal" life, the weight would come back on.  I found myself in this vicious cycle of deprivation dieting and was more unhappy in my skin than ever.
It wasn't until I gave up ALL of the dieting - the macro counting, the calorie counting, logging my food - that I found true freedom.  I started focusing on clean eating and an effective exercise program that didn't require hours in the gym and my body AND my mindset changed.
Now I want to share what worked for me, and countless other clients, with you.  I want to show you that losing weight doesn't have to be so complicated and miserable.  I want to work with you to build a lifestyle so you can shed the weight and stop the dieting forever.  I want to show you how to use food as medicine to balance hormones and find relief as our bodies change.  I want you to feel confident and sexy in your own skin and have the energy to do the things you love.
So c'mon mamma, let's do this.  Let's do this together.  I am going to be with you every step of the way!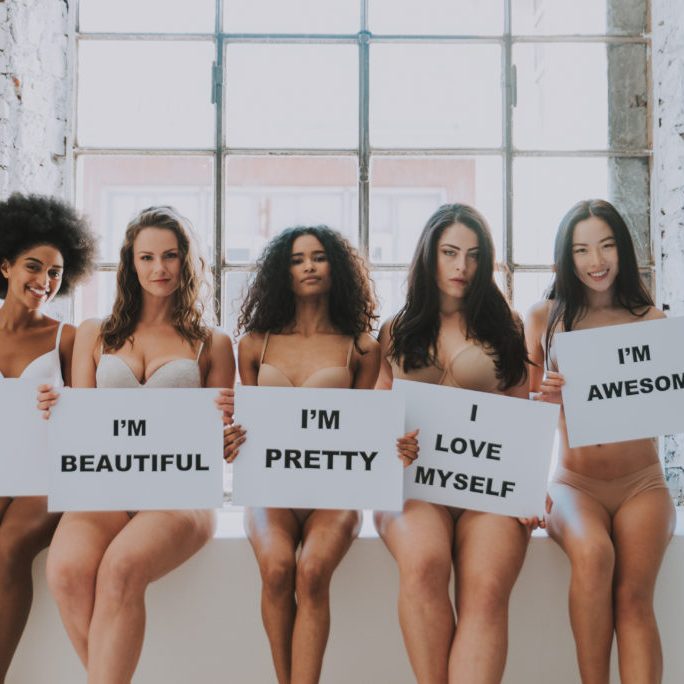 At the end of 30 days you will:
BELIEVING THAT YOU CAN DO ANYTHING IS THE FIRST STEP TO MAKING POSITIVE AND LASTING CHANGES IN YOUR LIFE.
Attaining a body you love is formed on the repetition of self-love, nutritious choices, body movement, and total alignment with your unique needs. In this 30-day program, I want to introduce you to a solution that actually works so you can jumpstart your way into the body you love.
Here's what we will cover over the next 30 days:
4 weekly group Zoom Coaching Trainings with Amber to connect, hold you accountable and keep you from giving up! ($250 value)
Access to private messaging with Amber so you can get quickie questions answered anytime and if things aren't working, she can help you troubleshoot on the fly where needed ($400 value)
The 30-Day Program Guide packed with day-by-day roadmap to shed the weight and develop a solid foundation for a healthy lifestyle ($75 value)
30 Day Clean Eating Recipe Guide packed with delicious, easy-to-make recipes so that you know exactly how to fuel your body to meet your goals ($150 value)
4 weeks of fat-burning and strength-building workouts so you can tone your body, gain energy and boost your metabolism ($250 value)
Optional BONUS Workshop on Intermittent Fasting to guide you through this effective technique for fat loss and hormone balance. ($100  value)
Optional BONUS Workshop on balancing hormones naturally. ($100  value)
Optional BONUS Workshop - group's choice. ($100  value)
A Pantry List to make trips to the grocery store super simple and helps make prepping, preparing, and cooking a breeze ($50 value)
4 Weeks of Suggested Meals that include your weekly meals at a glance so you can take the guesswork out of healthy eating ($25 value)
Weekly guided content and reminders to hold you accountable and keep you feeling excited to keep going especially when life gets in the way ($50 value)
Bonus eBooks, handouts and guides for additional support ($60 value)
Weekly goal tracking and activities to help you stay focused and on track with achieving your goals ($40 value)
Private FB Group to build community, receive additional support and coaching with Amber, celebrate wins and share your struggles with other like-minded women ($150 value)
Over $1800 worth of value for a fraction of the cost
How is this program different from other diets I have done in the past?  This program is NOT a diet.  This is the solution to stop dieting once and for all.  Other programs put you on a diet for a month but don't really teach you anything when it comes to nutrition.  They gave you a strict meal plan that usually involves cutting out of whole food groups or adhering to a rigid counting system (we all know these types of programs aren't sustainable).  You may stick to it for a little while but the truth is that you end the 30 days and you have no idea what to do next AND you lack motivation to continue because it's not a realistic way to live.  This is where the 30 Day Fat Loss Jumpstart is different.  We work very closely over the 30 days to establish a solid foundation so that you know exactly what to do to to continue with your weight loss goals after the program is complete.
Will I be working with Amber directly? Absolutely!  Amber is your one and only coach for this entire program!  Not only do you have personal messaging access to her, but she will be leading all of the Zoom trainings, FB group LIVE's and writing all of your workouts!
What will we cover on the weekly Zoom trainings?  Each week we will come together on a 60 minute call.  Plus I have included 3 bonus trainings - so some weeks we will have live check-ins/coaching 2x a week!  We will check in, share our wins, our struggles, where we need support and learn what it means to build a healthy lifestyle that you will actually stick to.
Is there a meal plan? YES! The 30 Day Guide, includes delicious recipes, a suggested meal plan and an easy to follow grocery list! But it is important to know it is not required for success.  The recipes are merely inspiration.  Because we spend a lot of time learning how to fill our plate, I have many clients that have success in the program and never made one of the recipes!  We will figure our what works for you!
I don't have much time to cook. Are these recipes quick and easy to follow?  Absolutely. The recipes I included in the guide are simple and don't require hours in the kitchen - no one has time for that!! The recipes repeat from week to week as well so you can batch cook and freeze. I wanted to make this as easy and efficient as possible.
I don't want to have to cook two meals.  Are these recipes my family will eat too?  Yes! The great thing about clean eating is that it is not a diet. It is whole, nutritious foods that the whole family will eat. The recipes are simple and you can make adjustments according to your family's palette!  In addition I will teach you simple tips and tweaks to adjusting meals easily so that they work for you and your family.
How long are the workouts and are there instructions on how to do the exercises?  The workouts are around 35 minutes and include a warm-up and cool down stretching. The app you use for the workouts counts the exercises down for you on an interval so all you have to worry about is working hard! Each exercise has an instructional video so you can make sure you are doing each one effectively and with good form.
Are the modifications available for beginners in the workouts?  Absolutely.  You will find that all of my workouts are based on more simple exercises that you can build on and ramp up the intensity as you get stronger.  So you can absolutely modify and work your way up.  If ever you are not sure how to modify an exercise, this is where the personal access to me comes in!  I will never leave you hanging!
How much weight will I lose on this program?  Results are 100% based on the individual -  but how much work you put in is how much you will get out.  Most of my clients will lose an average of 3-10lbs over the course of the 30 days and sustain it forever.
Will you be running this program again?  To be honest, I am not sure!  So if you are not sure if you want to jumpstart your fat loss for 2021, I would hop in here now!
Do you offer a refund if I don't lose weight?  Because a lot of amazing resources are delivered right when you join the program, I don't offer a refund.  However, if you aren't seeing results, we are going to troubleshoot and pivot quickly! This is why the private messaging with me is so KEY.  This is also why we have weekly coaching calls and a private FB community.  I am here for you to coach you all the way through and make sure you are hitting your goals!!!
THIS JUMPSTART PROGRAM IS FOR WOMEN WHO ARE READY TO SHED THE WEIGHT AND STOP THE DIETING ONCE AND FOR ALL.  IT IS FOR THOSE OF YOU WHO ARE READY TO FEEL SEXY, POWERFUL AND HAPPY AND GAIN THE CLARITY AND ACCOUNTABILITY YOU NEED TO BEGIN YOUR LIFELONG WELLNESS JOURNEY.
The alternative is to stay stuck in the vicious cycle of dieting, never feeling free from the shackles of food and never loving what you see in the mirror. Throughout these thirty days, I will teach you how to end the restrictive dieting and attain the body you love.

If that sounds like you, get ready to:
experience life through a whole new lens and finally feel joy, freedom and confidence.
ENROLLMENT FOR THIS PROGRAM HAS ENDED.  JOIN THE FACEBOOK GROUP TO BE THE FIRST TO HEAR OF UPCOMING PROGRAMS!