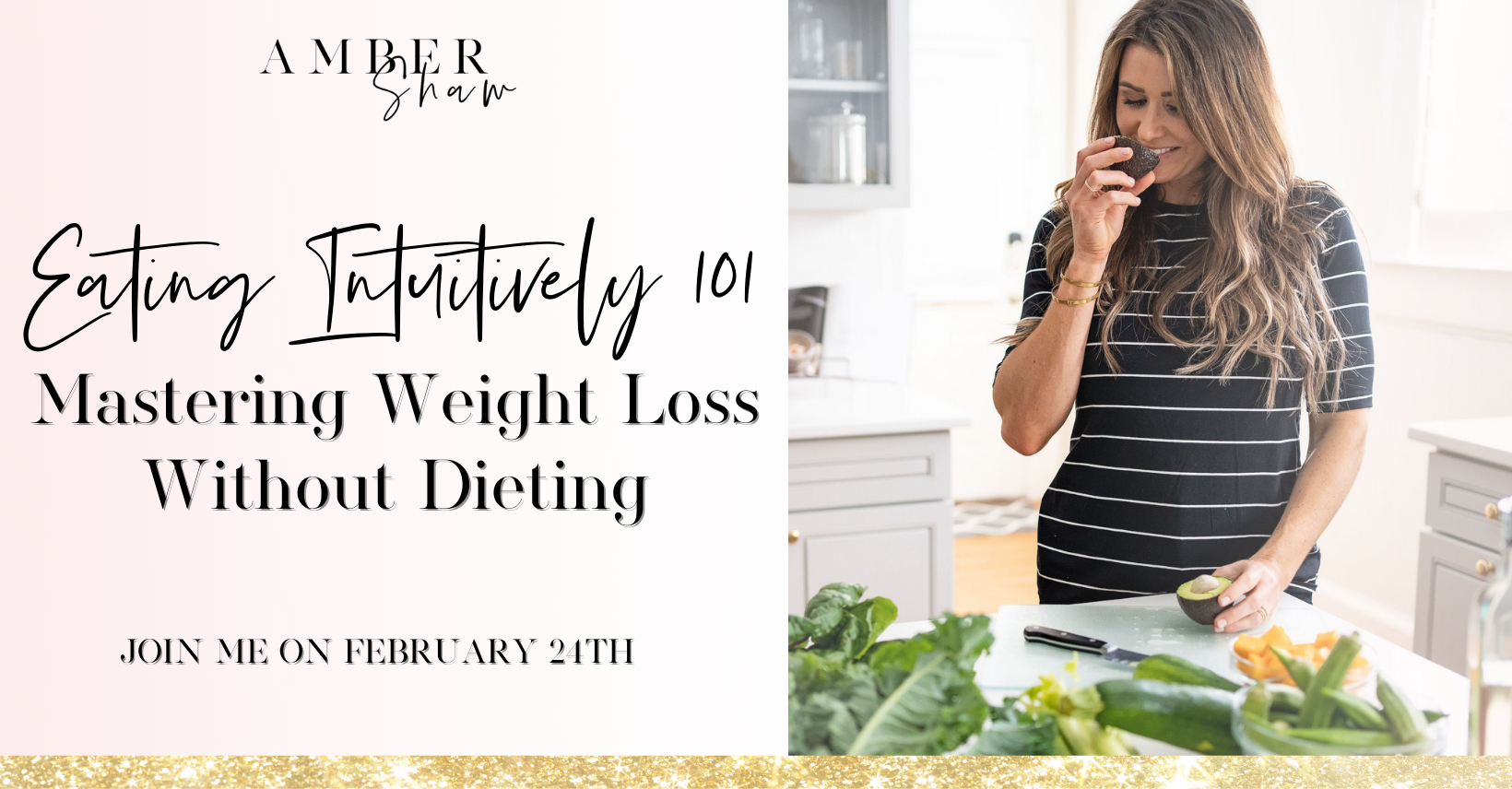 WEDNESDAY FEBRUARY 24TH @ 8 PM ET
Have you tried every diet on the planet but nothing seems to work?
Are you sick and tired of calorie counting, macro counting, and weighing of your food with little or no results?
Are you tired of feeling like you are starving yourself and still not losing weight?
Are you ready stop the dieting for good - and feel confident & sexy in your body?

I want to invite you to...
Mastering Weight Loss Without Dieting: Eating Intuitively 101
Date: Wednesday February 24pm @8pm ET
In this FREE masterclass, I will show you the steps to change your lifestyle so that you can shed the weight and keep it off… FOREVER!
❌  No starving yourself. 
❌  No depriving yourself.
❌  No restrictions on the things you love.
Weight loss doesn't have to be deprivation or restriction. 
That leads to bingeing and more unhappiness. You know it, because you've done it.  And I ALSO know you're a little scared to take the training wheels off. 
When it comes to "eating intuitively" you may not trust yourself. You hear people talking about eating when they're hungry and stopping when they're full, and you just can't relate.
Maybe you haven't been in touch with your hunger in years, OR you feel starving all the time. I get it. 
When you're used to eating from strict meal plans, food lists and counting + measuring, it can feel scary to ditch all those rules and try something like intuitively eating.  BUT, I can guarantee you that with some eduction and practice, it IS possible. 
But you just need the guts to TRY a new way. And I'll be sharing that way LIVE in this training.

It's 100% possible to create a lifestyle of consistency and eating whole foods that are packed with nutrients, while also enjoying how you eat and feeling fully in control.  You in?
Join me in a FREE workshop where I teach you how to master your weight loss goals and stop the dieting once and for all. Guaranteed.  Weight loss doesn't have to be deprivation or restriction.
My name is Amber and mamma,  I been right where you are.  In fact, I spent most of my life stuck on the never-ending crazy train of  counting calories, measuring food, restricting/binging.   I've tried every diet on the planet and then as soon as I went back to "normal" life, the weight would come back. I found myself in this vicious cycle of deprivation dieting and was more unhappy in my skin than ever.
It wasn't until I gave up all of the counting and obsessing over food that my body (and mindset) changed.  I learned a better way - a sustainable way shed the weight and keep it off for good.  I learned how to focus on a clean eating lifestyle and a life of moderation without deprivation.  When I learned to trust my body and stay consistent - I was finally able to break the insane diet cycle and at 42 be in the best shape of my life.  So join me and let me show you how.
SIGN UP NOW FOR A FREE COURSE